Find + Follow Friday (I'm Co-Hosting!)
Thanks for joining us! So let's get to it:

1. Follow your hosts.

3. Try to stop by at least 3 blogs and follow ones you love.
I'm sure they'd love it if you left a comment, as well :)

4. Take a button!
Sharing is caring :) The more awesome blogs = the more awesome bloggy friends you make.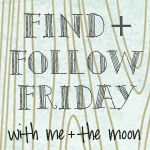 Spread the hop love.
I've decided to make this hop every other Friday for the time being-- e-mail me at nmariephoto@gmail.com if you'd like to co-host!